About
Reflecting its natural surroundings and traditional alpine style, Two Barns sits recessed in the mountainous terrain of the Cardrona Valley.
Designed by Space Studio, the lodge-style residence was created to provide a relaxed and luxurious feel for family and friends to gather. The clients envisioned a simple barn form that encompassed the rich farming and gold mining history of the area.
The exterior palette takes cues from the local rock which can be seen in the dark board and batten cladding and oiled cedar barn doors and shutters.
The form is structured as two pavilions that are linked by a windowed passage, while the exterior Clutha Quarried stone separates the two barns internally into two functions; the open plan living, dining and kitchen space, and the private sleeping areas.
The living areas are housed in a double volume barn space with ample space for entertaining around a central kitchen. The home boasts of its remoteness with a large cathedral window, symmetrically arranged to the external terrace, anchored at the one end of the building to capture the expansive view of the hills while connecting the habitants with the surrounding landscape.
The interior aesthetic is relaxed and textural with carefully considered lighting integrated into all design elements, either as a focal point or subtly illuminating key elements. A softer approach has been used when compared to the exterior masculinity, embodying warmth and comfort.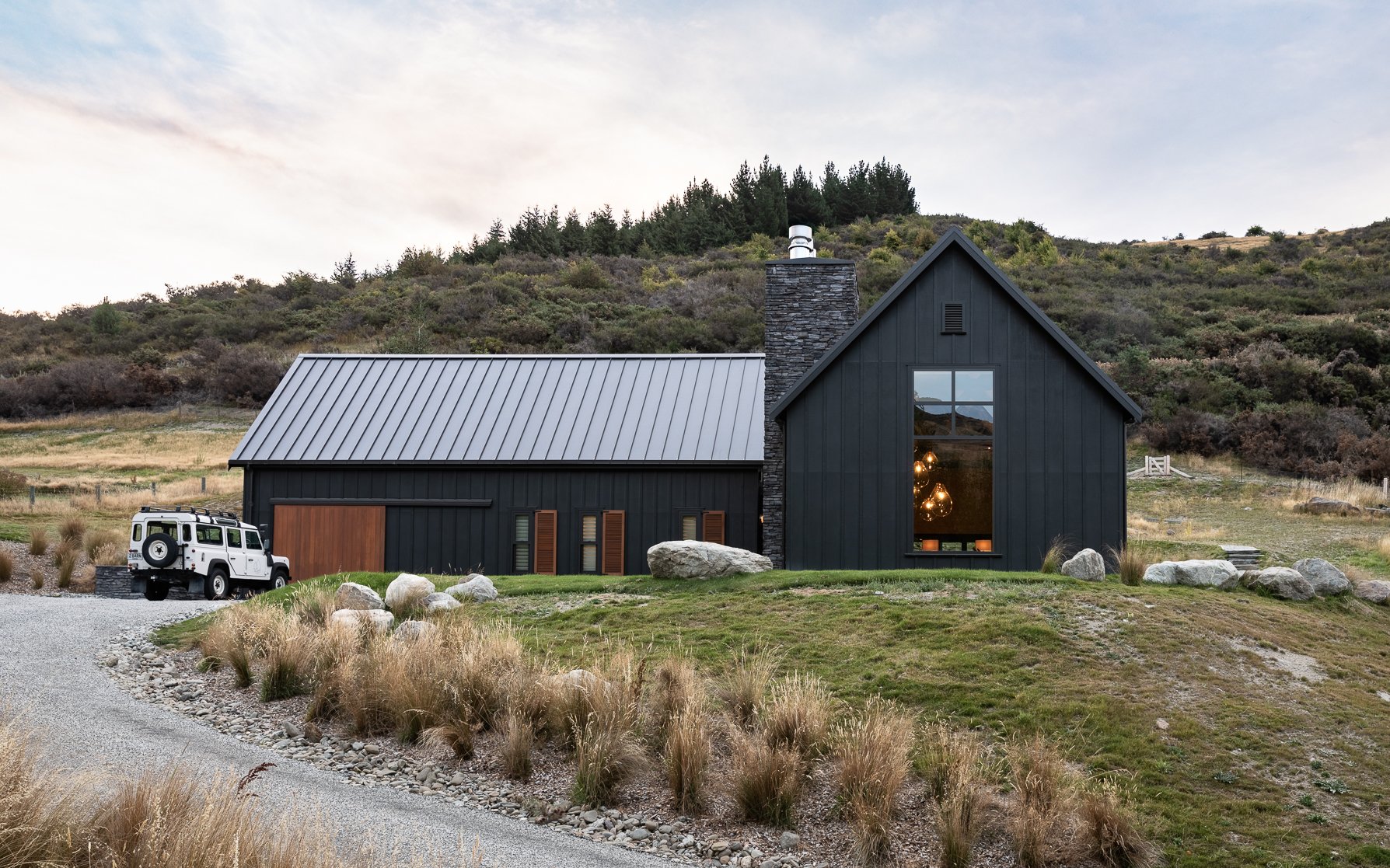 Different tones of timber have been used alongside a dark palette, local Clutha stone and schist. The walls in the living area are plastered and tonal to reflect the traditional finishes of historic structures in the area while the kitchen boasts Negresco stone that provides a tactile feel alongside stained oak cabinetry and textured fabrics in muted tones.
Hardware, tapware and lighting create a constant black accent throughout the home, adding to the journey of interest and differentiation.
Artiste Rustic Da Vinci engineered oak flooring by Forté has been laid throughout the living areas and passageway to the bedrooms. Da Vinci is a smoked, earthy brown European Oak with pale grey highlights that imbues rustic charm, the perfect complement to the lodge-style interior aesthetic.
Forté's Imondi Weathered Oak panelling is also featured, creating a rustic and moody feel with its dark shades of brown and worn look.