About
Comfortably nestled into the sloping embankment of Lake Rotoiti with lush backdrop of native trees, this holiday home is a picture of escape and retreat.
Built from a brief to recreate a childhood experience of life by the lake that encapsulated family, friends and holiday fun, the 450sqm building has been designed with the living spaces on the bottom level to ensure interaction with the lake and passers-by to create a sense of community.
The lower concrete bunker, recessed into the site, is a place for living and entertaining and includes a rumpus room, living room, dining area and kitchen, all spilling out onto the lake front via glazed sliding doors that recess discreetly to create a seamless flow between the indoor living space and outside entertainment area.
Clever landscaping coupled with exterior concrete stairs and various discrete entrances into interior spaces, enhance the overall experience of the changing levels on the site.
The building's upper level, clad in Accoya timber, floats above the base and juts out above the covered outdoor space below, creating a cantilevered area at lake-level. This level features two large bedrooms, both facing the lake, with a games room out the back, that has its own access, as well as two bunk rooms for family and friends, a large bathroom, and outdoor shower.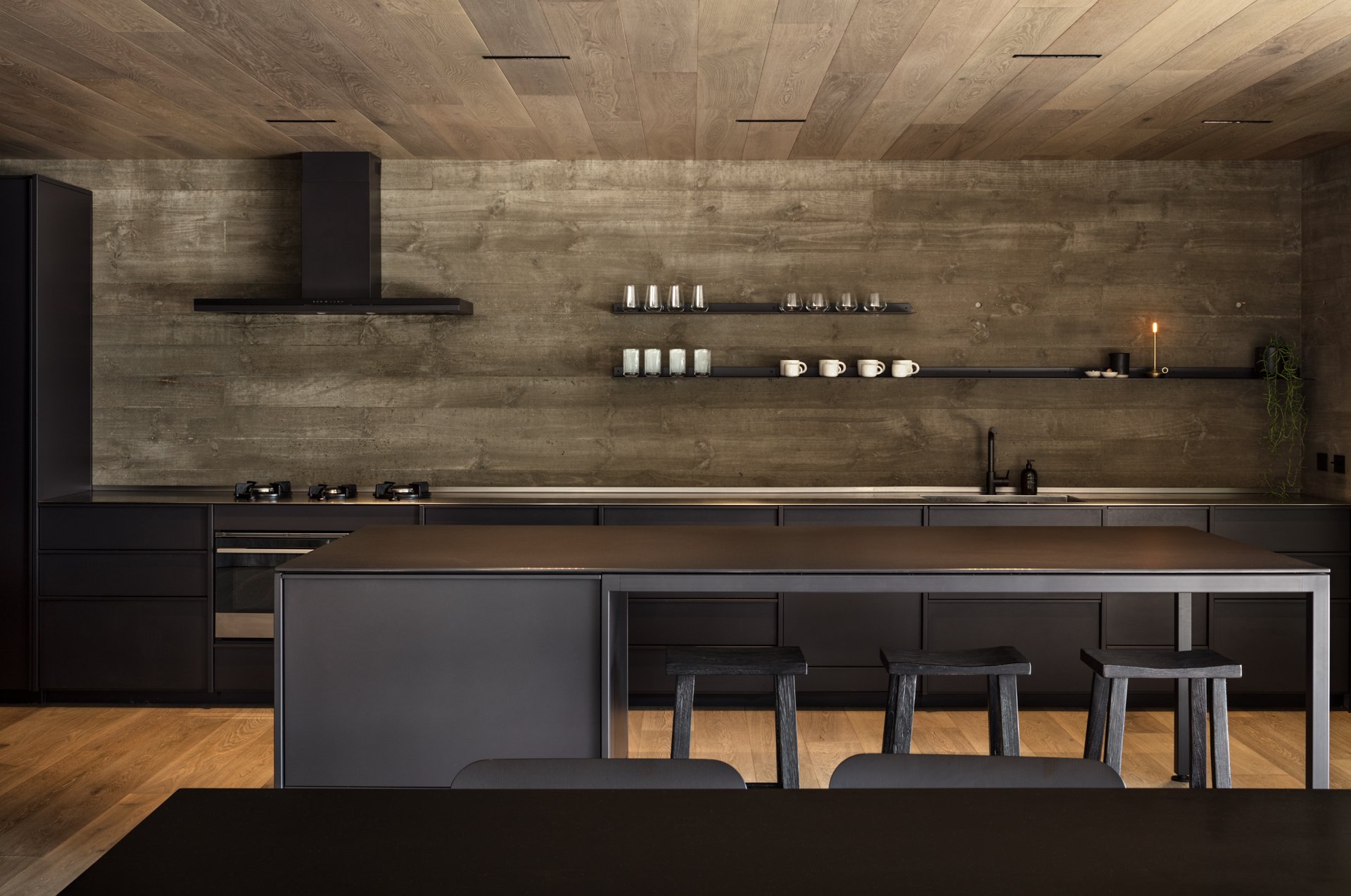 The sides of the building have been designed to look solid, with custom-designed anodised aluminium slat screens disguising the windows for privacy.
The interior is contemporary yet unique and takes inspiration from the native bush surrounding the home, with the use of a lush green carpet on the upper level and cedar, linens and leather used throughout.
The holiday home encompasses a dark and encasing feeling with a sense of calm, creating a cool refuge during summer and a warm den during the cooler months.
A textural reminder of the surroundings can be found in the black stained, rough sawn solid timber panelling and the earthy tones of Forte's Artiste Refined Van Gogh engineered timber flooring.
Artiste Refined Van Gogh, with its distinctive tones of grey and brown, is a stunning timber that radiates unique energy. The timber has been intensely smoked to darken the wood colour throughout, delivering increased colour variation. A subtle white-wash lightens the overall look and provides definition to the wood grain pattern.