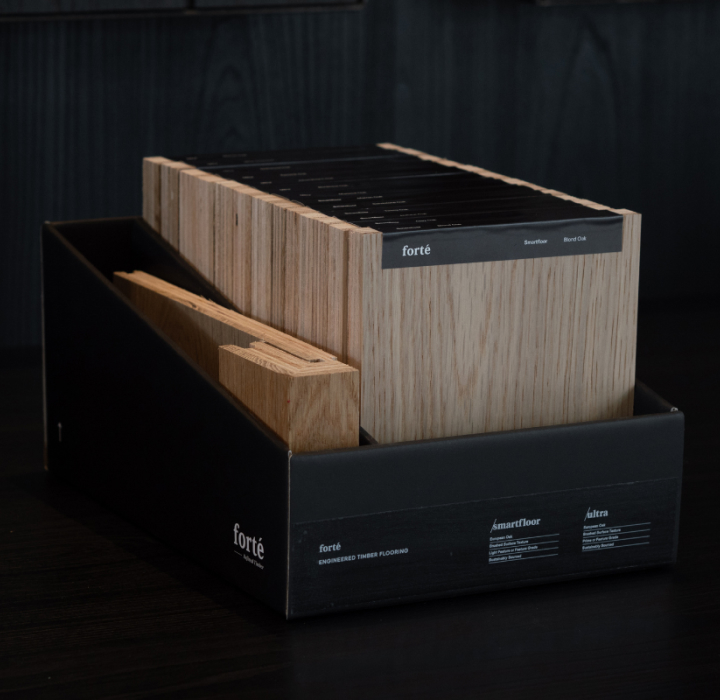 FREE SAMPLES DELIVERED NATIONWIDE
Order samples
We offer free samples nationwide in NZ, delivered to your door for your convenience.
Whether you're a homeowner sourcing flooring for your new build or renovation, or an architect or designer looking for options for a project - a Forté sample box is the perfect way to take the stress out of selecting materials for your project.
Our team is committed to delivering high-quality samples to our homeowner, professional and commercial clients to ensure the right timber floor is chosen for their projects.
Homeowner Samples Box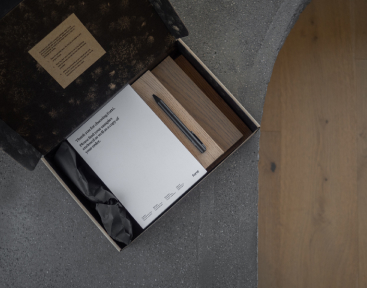 DETAILS
Our homeowner samples boxes provide 200mm hand-size samples, perfect for assisting with
selecting finishes for your project. We also offer 600mm samples, available on request, for those
who need a set of larger plank sizes to sign off colours.
WHATS INCLUDED
Selected hand samples (as requested by you)

Forté Collection booklet

About Us booklet

FSC Certified box, made from recycled cardboard



HOW TO ORDER
Click the link below to browse our product collection and add your desired samples to the sample cart, then complete the checkout process.
Please note: There is a limit of 6 loose samples per order.
Professionals Sample Box
DETAILS
Our designer sample boxes have been carefully curated to be practical, durable and longerlasting. We offer full collection sample boxes of 138 x 150mm hand-size samples, as well as a curated designer box where you can select individual samples from different collections to include in the box.
WHATS INCLUDED
Hand-size samples (full collection or individual samples as requested by you)
Stair nosing of the chosen collection
Forté Collection booklet
About Us booklet
FSC Certified box, made from recycled cardboard

HOW TO ORDER
Get in touch with a Forté representative to request your desired designer collection box by clicking the 'Request Samples' button below.

Alternatively, you can request a Curated Collection box, filled with hand-selected samples to perfectly suit your needs.

Sample Delivery Timeframes
We aim to dispatch all sample orders within 1 working day. Once your sample order has been
dispatched you will receive an email from our courier provider with your tracking details.
If your sample order is going to take longer than 1 working day to dispatch, you will be advised by
our team via email.
North Island (excl Auckland)
1-3 days
Other countries
please contact us
If you require your samples urgently, please get in touch with us on 0508 35 66 77