What is Engineered Wood Flooring?
Blog |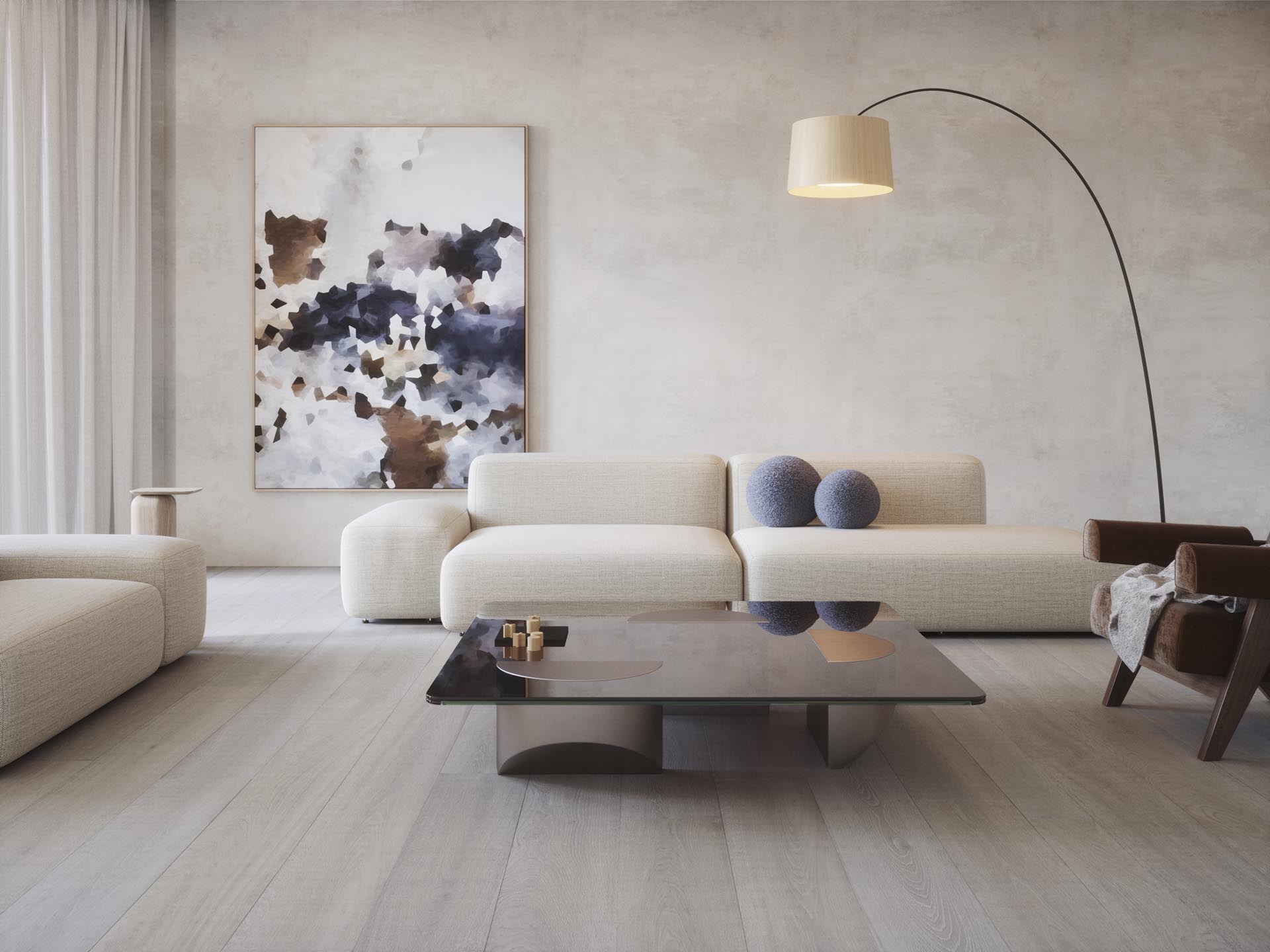 Engineered wood has a wear layer/veneer (top layer) of solid hardwood which is fixed to a multi-layered core of stable timber. This core backing is usually made from multiple layers of more readily available timber such as plywood, pine or hevea that are glued cross-directionally and pressed together.
What is a wear layer or veneer?
Each engineered wooden plank features grooves that are cut into one long side and one short side, with wood pieces called tongues sticking out on opposite sides. This is called the joining profile, which can either be tongue and groove or a locking profile. This is what holds the flooring together and keeps the planks straight when being installed. The wear layer or veneer is located above the tongue and this determines how many times the flooring can be re-sanded as you can only sand back to the top of the tongue.
The wear layer or veneer varies in thickness and thus will affect the number of re-sands the flooring can have - the thicker the veneer, the longer it will last. Most engineered wood flooring has between a 2mm and 6mm veneer of real wood with the most common veneer thickness being 4mm, giving it enough timber for up to 3 re-sands over its lifespan.

What is solid wood flooring?
A solid wood floor is 100% solid hardwood all the way through which means logs are milled and each plank is then manufactured from one single piece of wood and is therefore considerably more expensive than other flooring types.
What is laminate flooring?
Laminate is an entirely man-made synthetic, cost-effective material that consists of many layers fused together through a lamination process. The base of the flooring is fibreboard, and the top is a photographic applique layer simulating real wood and topped with a strong, clear resin.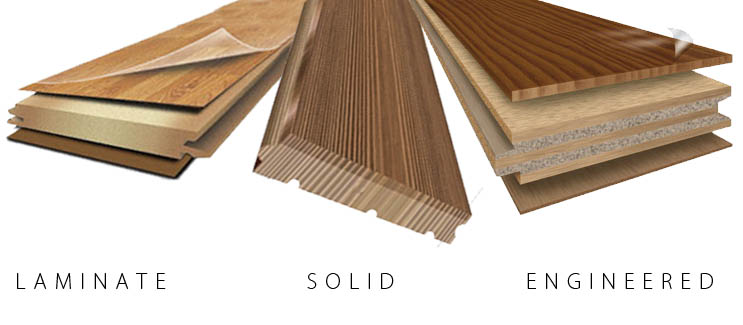 8 Benefits of Engineered wood over Solid wood
1. Stability
The main benefit of engineered wood flooring is the superior stability over solid wood due to the increased resistance to higher and lower levels of moisture. This prevents warping, cupping and shrinkage, all of which are common issues of solid wood, especially in New Zealand's humid climate conditions.
2. Plank width and length
Due to the superior stability of engineered timber flooring, it is available in longer and wider planks than what can safely be achieved with solid timber flooring, as planks need to be kept to a minimum to ensure the floor will not expand or contract too much.
3. Cost
Engineered wood flooring is also available prefinished (pre-coloured and coated) from the factory, eliminating the need for sanding and finishing on site and therefore making it more cost-effective than solid wood of the same thickness. The time it takes to install a solid wood floor which, together with the cost of the finishing coats that are applied, heavily increases the final cost of the floor.
4. Look and feel
If your engineered wood floor has been glued down then your floor will feel the same to walk on as a solid wood floor. Due to the hardwood veneer, the floor will also look just like a solid wood floor and therefore will add the same resale value to your home, but at a lesser cost.
5. Environmentally friendly
Due to the use of more common timber for the core, engineered wood uses approximately one-third of the amount of slow-growing hardwood resource compared to solid wood of the same dimensions, making it the more sustainable option.
6. What you see is what you get
Engineered wood flooring allows you to choose from pre-set colours which are applied in the factory using strict processes that ensure each batch is consistent and the final look of the flooring is exactly what you ordered. Custom colours can also be ordered if needed. When solid wood flooring is finished on site the colour has to be mixed and applied manually, increasing the risk of the dye ratio being incorrect or the colour being applied too heavily or too lightly.
7. Installation
Engineered flooring is almost always machined to a higher standard than solid timber flooring, with joint profiles being highly consistent. The boards are straight with the tongue and grooves tending to maintain their size well due to being engineered (do not swell with moisture) and therefore usually fit together very smoothly. On the other hand, solid timber is often difficult to install due to lower tolerances in the machining which leads to variances in joint profiles.
8. Wastage during installation
With any engineered flooring, you should be able to use every piece of flooring that you buy as it has been strictly graded and should have no structural defects or characteristics outside of the grade that you ordered. However, with solid timber flooring there is always a percentage of product that is not usable due to cracks, loose knots or other structural defects, resulting in a higher volume of wastage than engineered wood flooring. Read more in our 'Engineered Wood vs Solid Wood Flooring' article.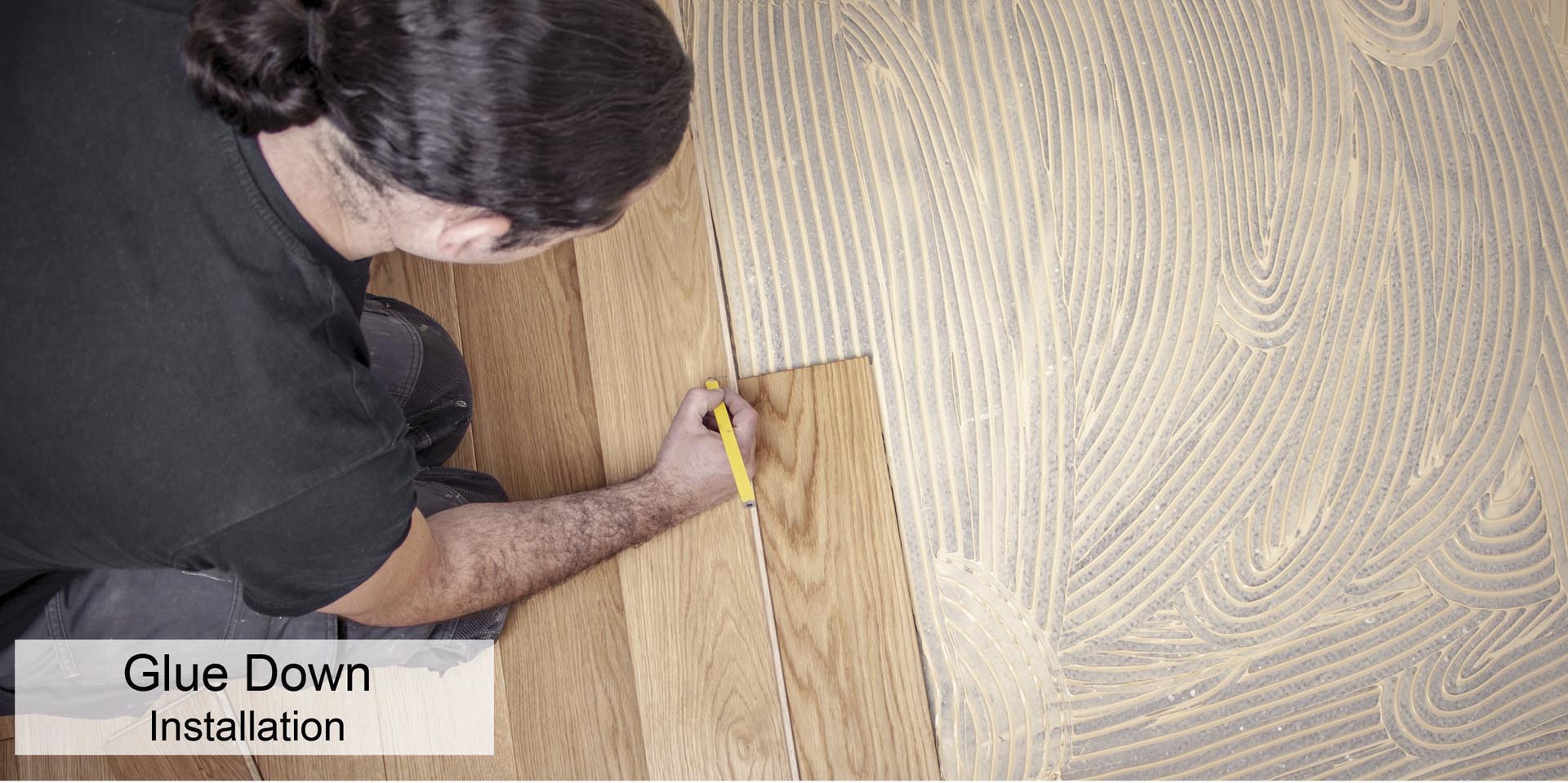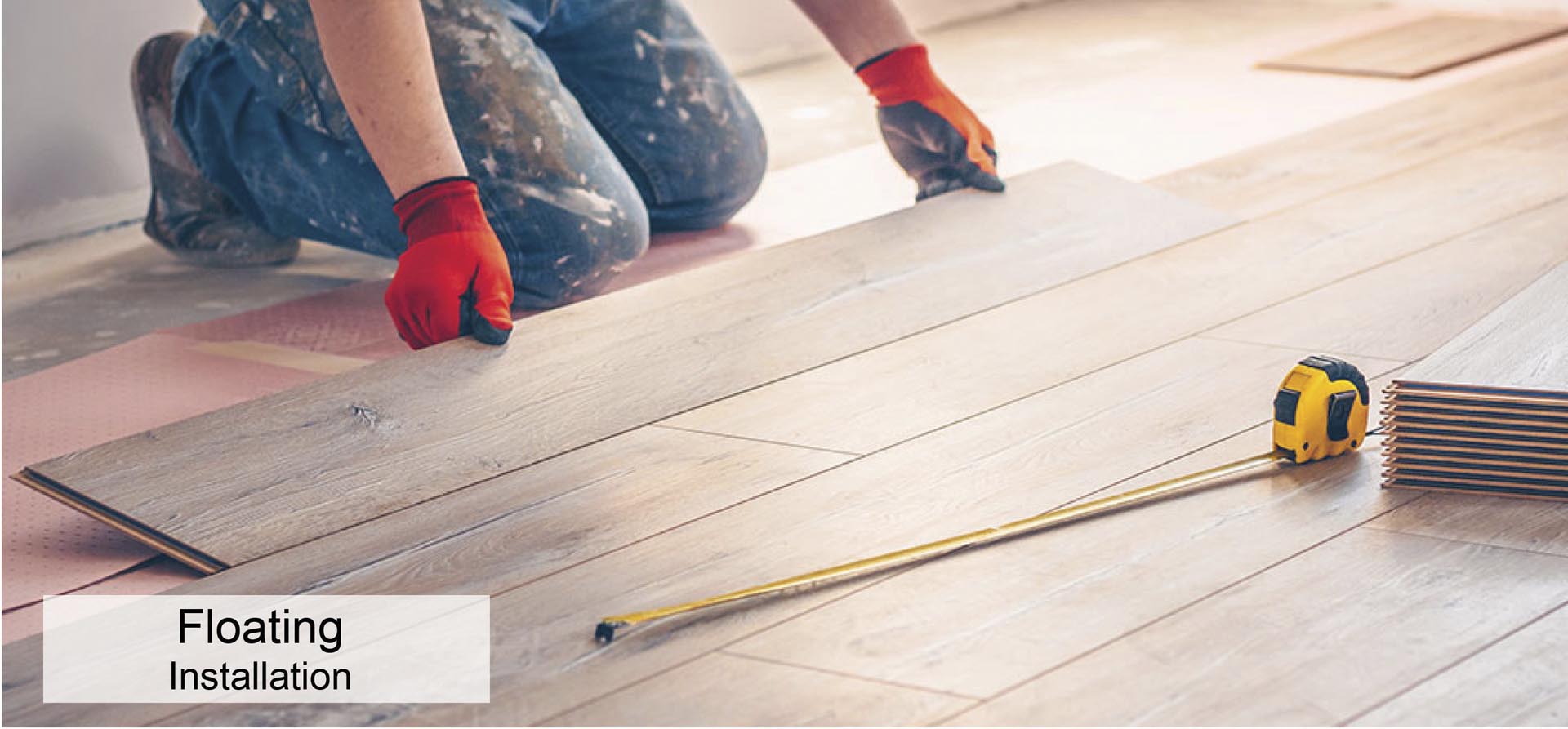 5 Differences between engineered wood and laminate flooring
1. Appearance
Engineered wood flooring is the real deal with a genuine hardwood veneer, offering a variety of colours, grades, surface texture and finishes, with no repetitive planks. Nothing brings warmth, heritage and natural character to your interior space like a real hardwood floor. Although laminate has become better at mimicking wood in the last several years and offers a variety of colours and textures, it is still a replica and can't compare to real wood. As the boards have a photographic applique layer simulating real wood, there are repetitive boards in a batch with the same pattern and features such as knots and cracks which, once laid, don't look natural or authentic.
2. Sound and feel underfoot
Engineered wood flooring is usually glued down for ultimate stability, eliminating the creaking and cracking underfoot that is common with laminate flooring, making it feel and sound better to walk on. Laminate flooring is installed as 'floating' over the subfloor with a foam underlay. This can cause the floor to flex underfoot as you walk, creating a hollow, cracking and crunching sound. Laminate flooring is also synonymous with making unfavourable sounds such as a 'click-clack' sound when walked on with heels or a clicking sound when walked on by pets with untrimmed nails. It can also make the area echoey in sound.
3. Durability, lifespan and moisture resistance
Engineered wood flooring is always finished with a coating to protect it from damage and moisture, which increases the lifespan of the flooring. Generally, the more coats applied, the better protection there is from scratching and staining. Engineered wood flooring, if glued down, has an impressively long lifespan. Depending on the thickness of the veneer, an engineered wood floor can be re-sanded up to 5 times, giving it a lifespan of 30 – 50 years or more if cared for correctly. Laminate flooring cannot be sanded or refinished; therefore, when the flooring becomes badly scratched, dented or chipped, it must be removed and replaced. Depending on the quality of the material used, laminate flooring has a lifespan of around 10-20 years.
4. Resale value
Engineered wood flooring adds significant resale value to a home. It can be a real selling feature when putting your house on the market as it offers prestige and superiority over laminate with its appearance, lifespan, sound, and feel underfoot. Laminate flooring can have a negative impact on the resale of your home, depending on the material used. Although it is no longer seen as an inferior material and offers better resale value than carpet or vinyl, it is nowhere near as favourable as real hardwood flooring.
5. Sustainability
Engineered wood flooring is a sustainable option due to both the solid wood veneer and plywood base of the planks being environmentally friendly. Plywood is also one of the most environmentally friendly natural wood products on the market as it is a fast-growing renewable resource. Laminate flooring is made from synthetic material and a base fibreboard which is produced by crushing up pine and mixing it with a type of glue/resin, making it a lot less friendly to the environment. Read more in our 'Engineered Wood vs Laminate Flooring' article.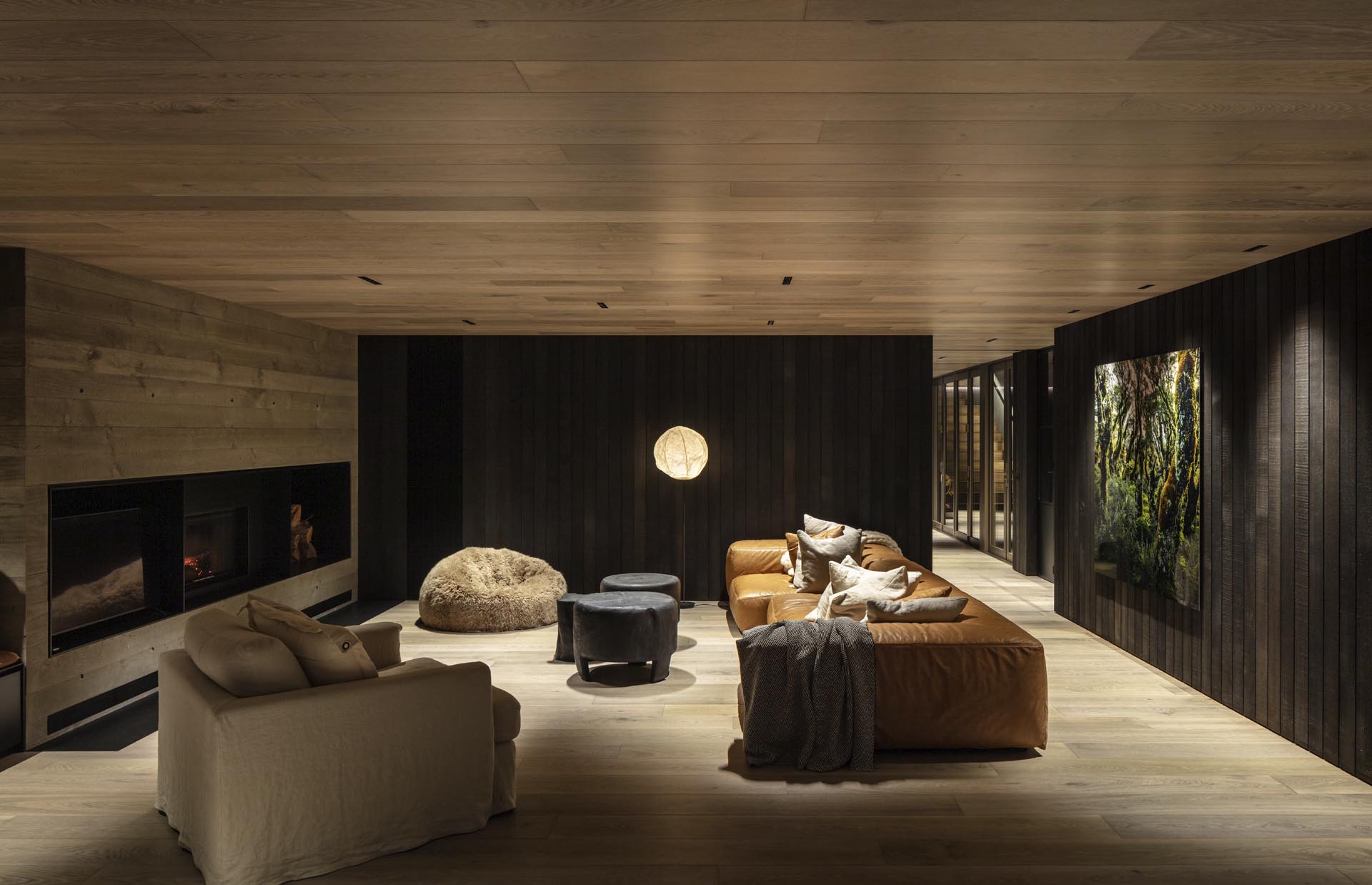 If you have any questions or want more information on the extensive collection of premium engineered timber products we offer, please contact our team of experts or live chat with us on our website.
Visit one of our Showrooms
If you have any queries about our products or need help with your project, we can provide you with expert advice. Visit one of our showrooms or book a consultation with our flooring experts today.